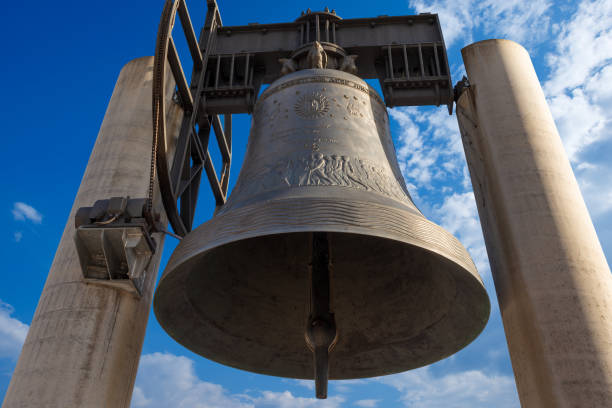 Ring the bell for James J. Cudney who is revealing the cover of his new book…
Isn't it a great cover AND, having read other books in this series, I know it's also a great story!
The Blurb
When Bell Towers decides to build their newest boutique hotel in Wharton County, Braxton establishes a hospitality program as part of their university expansion. Despite the Ingram and Lynch family ties to prominent citizens, a dispute over the proposed landsite pits citizens against each other.
One takes matters into their own hands and slays the hotel magnate during the campus holiday party. As the list of suspects increases, long-lost family members are anxious to keep their secrets from being revealed, complicating Sheriff Montague's ability to determine the murderer's true motive. Even Kellan is forced to cast doubt on his friends and colleagues when it becomes obvious someone he knows committed the ultimate crime.
April and Kellan are also celebrating their first Christmas and Hanukkah together, exchanging gifts based on the classic Twelve Days of Christmas song. While they trim the tree, light the menorah, and experience all the traditional holiday festivities with the kids, Nana D delivers her sarcastic brand of humor and endlessly tortures the town. Among Eleanor's surprise news, Augie's new girlfriend, and Myriam's hilarious demands, Kellan's dealing with unexpected holiday drama.
The poor guy simply wants to spend the merry season with his family before he's forced to trek to Scotland to fulfill his promise to the late Constance Garibaldi. What kind of quest has the psychic sent him on now?
Pre-order link
Add Sleigh Bell Tower: Murder at the Campus Holiday Gala to your To Be Read on Goodreads here: https://www.goodreads.com/book/show/56803291-sleigh-bell-tower
My review of Frozen Stiff Drink (Braxton Campus Mysteries Book 6)
Frozen Stiff Drink is another incredibly fast-paced and fascinating murder mystery in this great series by author, James J. Cudney. This one is even more complex as it involves three murders and a couple of close attempts so you have to pay attention and stay on your toes while reading. This book also includes a ramp up in Kellan's relationship with law enforcer, April, despite some trials presented in the unexpected appearance of her husband, Fox Terrell, who turns out to have some unexpected relationships with the people of Wharton County, and his continued interference in her murder cases.
Kellan's brother, Hampton, plays a bigger role in this tale and becomes involved in a lot of intrigue. He is accused of embezzlement by his father-in-law, Orin, Read, the founder of the firm where he works, and when Orin is discovered dead, Hampton is the natural suspect in the case.
Nana D, now mayor of Wharton County, but still high spirited and indefatigable in her dealings with family, friends and her constituents. Nana D goes missing during a bad snow storm and Kellan is worried about her. During his search for her he finds her car with another body inside it, but no sign of Nana D.
The story line is exciting with lots of twists and turns and the ending was clever and unexpected.
All the wonderful family elements that make this series so special are present with Kellan's daughter, Emma, going to Disney Land with his parents and his surrogate son, Ulan. Francesca, Kellan's on-so-dead mobster related wife who he is trying to divorce, also pops up in a threatening manner as she wants to get her hands on Emma.
James J. Cudney has a very natural style of writing and includes lots of great description in a simple and unencumbering way which does not detract from the pace of the story. I look forward to see what this author produces next.
Purchase link: Amazon US
Bravo, James J. Cudney!