My blogging friend Rebecca Budd is currently participating in a #KaramazovReadalong, you can read about it here: https://ontheroadbookclub.com/2021/07/27/karamazovreadalong-day-1-who-is-fyodor/.
The reading group are reading one chapter a day of this book and it inspired me to tackle Divine Comedy by Dante Alighieri in the same manner.
Canto 8
As Dante and Virgil continue around the Fifth Circle of Hell, they come to a tall tower standing on the bank, flames bursting from it's highest point. Phlegyas, the boatman, meets the two poets but is angered when he realises they are not damned souls. Virgil argues with Phlegyas who agrees to take them across the River Styx.
During the crossing, a soul rises from the slime and confronts Dante. The soul is Filippo Argenti, a Florentine enemy of Dante's. Argenti is one of the 'Wrathful" being punished in the marsh. Dante and Argenti have an altercation and Dante reacts badly, wishing Argenti should suffer further punishment. This bitter argument again introduces the theme of politics in this book as Argenti's family opposed Dante's return to Florence. It is at this point in the story that Dante's character starts to change. This is evidenced by Dante's lack of pity for the Wrathful in the marsh and his angry reaction to Argenti's behaviour. Interestingly, Virgil praises Dante for his response to Argenti's comments.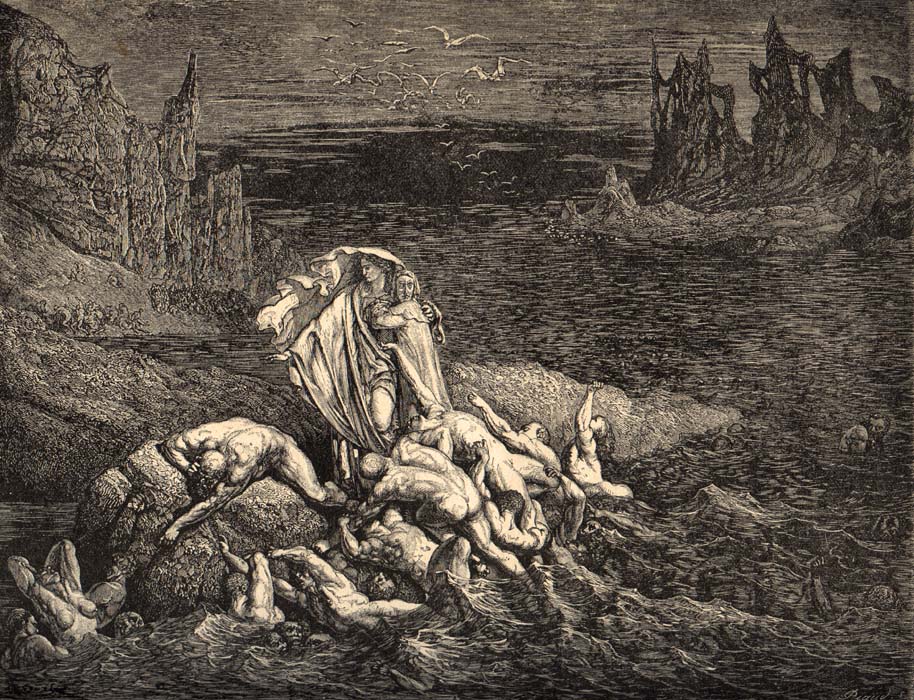 Dante and Virgil continue on to the City of Dis, the capital of Hell where the sins of violence and heresy are punished. The mythological king of the Underworld, Pluto, is sometimes called Dis so this city is named for him.
At the gates of Dis, the damned souls refuse Dante entry and Virgil is unable to convince them otherwise. Virgil assures Dante that "the Great One" is on his way to open the gate.
A quote from Canto 8
And I said: "Teacher, I 'd be greatly pleased
to see him get a ducking in this broth,
before we issue from the marshy lake."
And he to me: "Thou shalt be satisfied
before the shore reveal itself to thee;
't is meet that thou enjoy a wish like that."
Soon after this I saw the muddy people
making such havoc of him, that therefor
I still give praise and render thanks to God.
They all were shouting: "At Filippo Argenti!"
the spirit of the wrathful Florentine
turning, meanwhile, his teeth against himself.
We left him there; of him I therefore tell
no more; but on mine ears there smote a wail,
hence I, intent ahead, unbar mine eyes.