The Woman at the Till by Tatamkhulu Afrika
She had a plain, hard face,
A head thrusted forward like a hawk's.
Impossible brass triangles,
Improbable steel manacles
Cluttered her thin arms.
Clearly, she had little love for the world:
She had learned, though,
That she would not win,
So she did not throw your change at you,
Nor did she press it in your palm,
But placed it, sullenly,
On the counter in between.
She would wrap your purchase languidly,
Yet fast enough to cut off an complaint,
And when she had her punch-up with the till,
It was an exercise in ferocity,
Delicately restrained.
She was what we call "Maboer",
A low white trash,
AWB most probably,
Slouching barefoot in Boksburg or Mayfair West.
I did not feel any particular hate for her,
Perhaps because I was what
She would call a low black trash,
Which made us quits.
And then I noticed that
She did not look at or thank
Anyone, black or white,
And such indiscriminating unsociability
Won her my respect!
But then one day a brazen clash
Of colours drew my eyes
From their customary casting down,
The ritual bartering of cash for cloth,
The careful I-do-not-see-you stale pretence-
She had bought herself a brand-new blouse,
A rioting of palms and psychedelic birds,
A raw extravagant, revolutionary thing,
As African as I.
I exclaimed in wonderment I could not hold in-
"What?'' she barked,
Looking at my hands.
"I said your blouse is beautiful."
For the first time ever she looked into
My eyes, and time stood still:
Her universe turned on an axis thin as a pin.
Then a strange and lovely tenderness touched her mouth,
A faint blush tinged her dead-white skin:
"Thank you," she said, and smiled.
About Tatamkhulu Afrika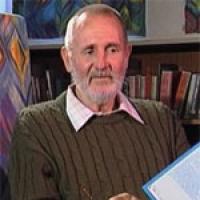 Novelist and prize-winning poet, Tatamkhulu Afrika (Xhosa for Grandfather Africa) was born in Egypt in 1920 and came to South Africa as a young child. He was a veteran of World War 2 and, as a member of Umkhonto we Sizwe (Spear of the Nation), was active in the South African freedom struggle.
His first novel, Broken Earth was published when he was seventeen (under his "Methodist name"), but it was over fifty years until his next publication, a collection of verse entitled Nine Lives.
He won numerous literary awards including the gold Molteno Award for lifetime services to South African literature, and in 1996 his works were translated into French. His autobiography, Mr Chameleon, was published posthumously in 2005.
You can read more about Tatamkhulu Afrika here: https://www.sahistory.org.za/people/ismail-tatamkhulu-afrika-joubert
The Zulu Girl by Roy Campbell
When in the sun the hot red acres smoulder,
Down where the sweating gang its labour plies,
A girl flings down her hoe, and from her shoulder
Unslings her child tormented by the flies.
She takes him to a ring of shadow pooled
By thorn-trees: purpled with the blood of ticks,
While her sharp nails, in slow caresses ruled,
Prowl through his hair with sharp electric clicks.
His sleepy mouth plugged by the heavy nipple,
Tugs like a puppy, grunting as he feeds:
Through his frail nerves her own deep languors ripple
Like a broad river sighing through its reeds.
Yet in that drowsy stream his flesh imbibes
An old unquenched unsmotherable heat –
The curbed ferocity of beaten tribes,
The sullen dignity of their defeat.
Her body looms above him like a hill
Within whose shade a village lies at rest,
Or the first cloud so terrible and still
That bears the coming harvest in its breast.
About Roy Campbell
Durban born, South African poet, Roy Campbell was considered by T. S. Eliot, Dylan Thomas and Edith Sitwell to have been one of the best poets of the period between the First and Second World Wars, and is recognized in South Africa today as one of the best poets the country has ever produced. Fellow South African poet Uys Krige described him as "the most poetic of poets" and believed him to be a perfect example of how the true artist could, ignoring all obstacles, dedicate his life to his art. He was a swashbuckling adventurer and a dreamer of dreams, as well as an individualist who attracted controversy. His vocal attacks on Marxism and Freudianism, popular among the British Intelligentsia, and his stance in the Spanish Civil War, along with his satire of colonial life in Natal, isolated him from many would-be supporters of his work at the time.
Credit: https://tekweni.co.za/roy-campbell-1901-1957/. If you follow the link you can listen to an interesting 30 minute video about Roy Campbell.
What did you think of these two poems? Which one did you prefer? Let me know in the comments.