I usually post a book review on a Wednesday. This week, however, I didn't manage to post my 99-word flash fiction piece for Charli Mills' prompt yesterday, so I decided to share this today and my book review tomorrow.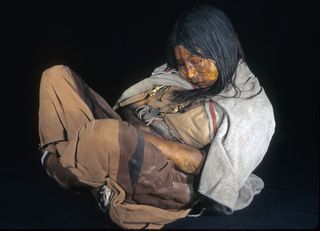 You can join in Charli's prompt – Unremembered, here: https://carrotranch.com/2019/09/27/september-26-flash-fiction-challenge/
The unexpected sight of the frozen tableau inside the shrine caused the team of archaeologists to gasp in shock. The faces of the three Incan children, who had been sacrificed five hundred years earlier, were peaceful. The oldest, a girl they nicknamed the Maiden, had a half smile playing around the corners of her mouth.
Analysis of hair samples from the frozen mummies found entombed in a subterranean chamber, revealed that the children had all been drugged with coca leaves and alcoholic beverages.
This historical discovery ensured that the Maiden, Llullaillaco Boy and Lightning Girl, would not be forgotten.
If you would like to read my vision of the Maiden's death, you can do so here: https://robertawrites235681907.wordpress.com/2019/09/29/writephoto-harbinger/
If you would like to read more about these mummies, you can do so here: https://www.livescience.com/38504-incan-child-mummies-lives-revealed.html